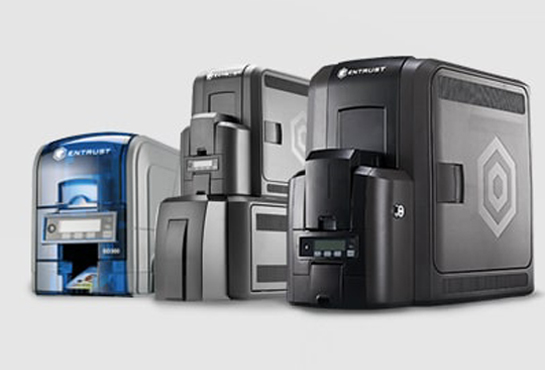 ID Card Printers
They can be used for various applications like in…
Education – Student ID & Staff ID Cards
Government – National ID, Drivers License, Registration Cards, Health Cards
Corporates – Employee ID Cards, Door Access Control Cards
Healthcare – Staff ID's, Patient ID Cards
Manufacturing – Staff ID's and Warranty Cards
Etc..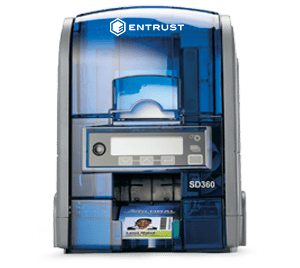 Step 1. Determine Your Budget
It's very helpful to have a pre-established budget range in mind when evaluating printers, since an organization's budget can be the most limiting factor.
Step 2. Single Or Dual-Sided
Determine what you will need to print on the cards and whether all of the content will fit on a single side. Dual-sided printers automatically flip and print on the backside of a card in a single pass.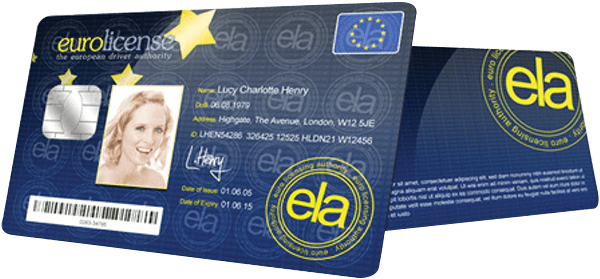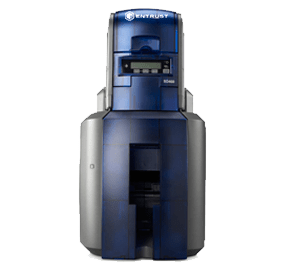 Step 3. Printing Method
Dye Sublimation (Direct-to-Card) Printers
Most ID card printers use dye sublimation printing, also known as direct-to-card (DTC). These types of printers infuse the color from the printer ribbon into the card using heat from the printhead.
Rewritable Printing Mode
Rewritable cards are thermo-sensitive, and can be printed, erased, and re-printed up to 500 times.
Reverse Transfer Printers
Reverse transfer printing (also known as retransfer printing) is a higher-end printing technology that produces crisper, high definition resolution, and true over-the-edge printing without any white borders.
Step 4. Volume Requirements
Knowing the estimated daily and annual printing volume is very important in helping you choose the right printer. This section will help you consider saving upfront with a lower level printer, compared to saving in the long run on production time and supplies cost.
Handfed vs. Batch Printing
Some entry-level printers only offer handfed printing since they don't have input or output hoppers. Handfed printers require each card to be manually loaded one at a time, and are ideal for organizations that only print a few cards per day.
Input & Output Hopper Capacity
Input hoppers hold the blank cards before printing, while output hoppers hold the printed cards as they come out of the printer.
Print Speed
A full colored print can take 12-35 seconds per card depending on which printer you use. Organizations with high volume print requirements can save time and production costs by selecting a faster printer. Organizations with low to medium volume programs will be impacted less dramatically by printer speeds, and should focus on other factors.
Max Ribbon Yield
Instead of ink or toner, ID card printers use ribbons to print. Each ribbon has a set number of prints that it can produce, which is called the ribbon yield. Larger ribbons need to be changed less often, saving time and labor, and tend to have a lower cost per print.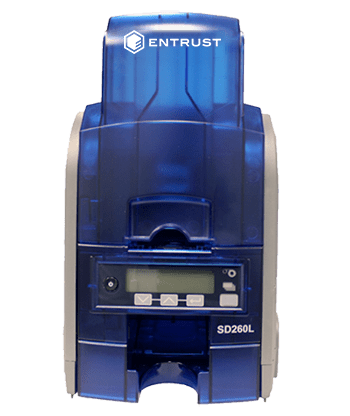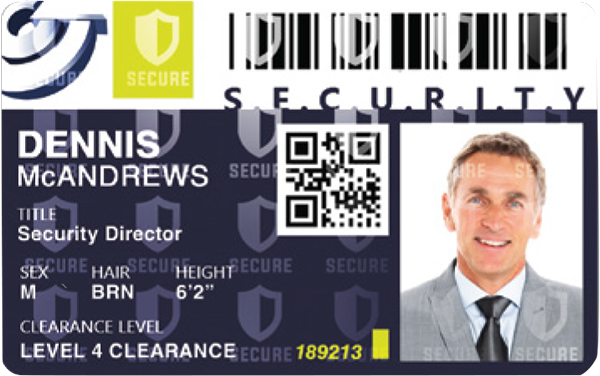 Step 5. Lamination, Security & Encoding
Lamination (Clear or Hologram)
Lamination increases ID card durability and extends lifespan. It is especially useful for cards in high impact environments, cards used outdoors, or cards that are swiped through a reader. Laminates can be ordered with embedded holograms, adding an extra layer of security to prevent fraudulent duplication.
AlphaGuard
AlphaGuard is a technology that adds a hologram-like watermark over an ID card without requiring a lamination unit or any additional supplies. This extra layer of visual security helps prevent unauthorized ID card duplication, but unlike lamination doesn't add additional durability to the card.
Other Security Options
There are several other options for visual security including specialty cardstock, manually applied holograms, or design elements which prevent fraudulent duplication.
Encoding Options
Barcodes, magnetic stripe, proximity cards, and other smart card technologies allow cards to be used with existing programs for access control, time and attendance tracking, membership, or cashless payment.
Step 6. Connection Type
USB, Ethernet, Wi-Fi
USB cables connect printers to a single computer and come standard with all printers. Ethernet connections are required to connect the printer to a network. Wi-Fi is also an available option on a few printers, and allows you to remotely send print commands to your printer.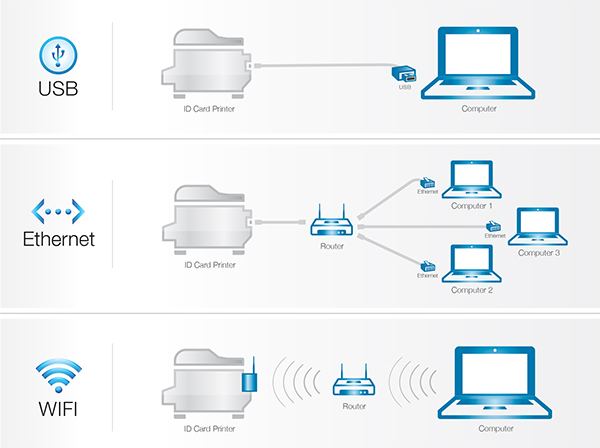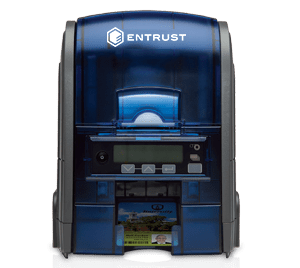 Step 7. Other Considerations
Printer Size
If you have limited space, you may need to take into consideration the footprint and overall size of the ID card printer.
Field Upgrades
Some printers offer field upgrades so that an organization can add functionality at a later date.
Operating System Compatibility
Be sure to check the printer for operating system compatibility if you use a retired, newly released, or Mac OSX operating system.
Warranty & Loaner Coverage
All printers come with a manufacturer warranty that generally lasts between one and three years.
products
Our products
products